At a Glance
Description
Right this way for Seattle and Washington state history resources.
Online Encyclopedia of Washington State History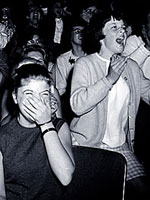 History Link is an encyclopedia of the history of Seattle and King County, WA. A timeline of 180 "Milestones" connects visitors to 500-word historical essays on topics in Seattle-area history from before 1851 to 2000. "People's Histories" presents roughly 150 memoirs and oral histories (1000 to 16,000 words) of Seattle residents of diverse class and ethnic backgrounds, including Squamish and Nordic. There are 18 "Magic Lantern" photographic essays ranging from one image and 40 words to 50 images and 300 words. Special collections have been arranged in 17 folios, which cover topics such as Martin Luther King's 1961 visit to the city and the World Trade Organization (WTO) meeting in 1999. The WTO archive contains 19 articles of 100 to 2000 words on the history of radicalism in Seattle and the WTO protests of 1999 and 2000. This archive also contains 48 photographs of the protests taken by History Link staff.
Visitors may take four Cybertours of the city in which they click on sections of a map and connect to one or two images and 300-word descriptions of local history. "Then and Now" contains 49 before-and-after photographs of Seattle landmarks with 300-word essays on the history of each location. The site is easy to navigate and can be searched by subject. In March 2003, HistoryLink added a database for all of Washington state. It is an excellent resource for all levels of scholars interested in the history of the Northwest or oral history.