At a Glance
Description
Looking for a documentary related to your classroom unit? Check Snag Learning for something pertinent or inspiration for future lessons.
Website
Snag Learning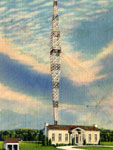 Snag Learning "snags" video content from several sources (PBS, National Geographic, Explorer, Content Film, and Sundance), and sorts it by subject and grade level.
There are currently more than 60 history videos available. However, these films span across global, rather than solely U.S., history and there is no way to sort them. To find videos of interest, you will have to scroll through the approximately eight pages of films available in the category or take your chances with a keyword search.
Offerings pertinent to U.S. history include, but are certainly not limited to, Vietnam's Unseen War on North Vietnamese war photographers (54 minutes); Telescope: A Talk with Hitchcock, Part One (26 minutes); and The Blues Lives On: The Delta Blues Museum which covers the history of the Delta blues (27 minutes). Other represented topics include the Clean Water Act; Arlington National Cemetery; the Battle for Midway; Barack Obama; Pearl Harbor; J.C. Nichols; Allen Ginsburg and Naropa University; Martin Luther King, Jr.; Ellis Island; the FBI; oil; Lewis and Clark; the Secret Service; the Apollo space program; and autism and parenting in the 50s and 60s. All videos are accompanied by a set of questions to be posed to students.
Note that you unfortunately cannot sort by multiple factors, such as history videos and videos for K-5 students.