At a Glance
Description
How did the Underground Railroad work? Listen to an insider's story.
Freedom Bound: The Underground Railroad in Lycoming County, PA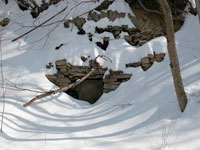 An interactive site on the Underground Railroad in Lycoming County, PA. Users go to a map of the environs near Williamsport dotted with 13 relevant locations. Clicking on a location brings up images and streaming audio testimony from oral historian Mamie Sweeting Diggs, who details their significance using stories passed down from her great grandfather, Daniel Hughes, an agent and conductor on the railroad.
A river raftsman, Hughes brought logs down the Susquehanna River to Maryland, and then returned leading slaves on foot through a mountain trail. Slaves hid in warehouses, caves, and Hughes's own home. Helped by Hughes and his cohorts, the slaves headed for nearby Freedom Road, from which they would travel to Canada by foot or train.
More than 50 photographs and prints document the places where the story took place. Diggs relates four additional stories from Hughes. This site succeeds in illuminating the workings of the Underground Railroad.