At a Glance
Description
Do you want to use humor to your advantage in the classroom? Hope for America examines comedy and satire in American popular culture and its influence on political history.
Producer
Hope for America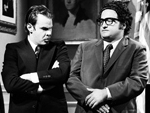 Hope for America, an exhibition from the U.S. Library of Congress, focuses on the comedian Bob Hope and the marriage between humor, politics, and satire in the modern age. Various viewpoints are on display, which the site believes will allow visitors "...to draw their own conclusions regarding the interplay of politics and entertainment in American public life and its consequences for the nation's political culture."
The site is divided into three basic themes: Political Humor, Causes and Controversies, and Blurring of the Lines. Each thematic section offers a basic overview, some poignant quotes, and links to items in the collection. A bibliography and list of events are also provided for further exploration in the top navigation menu.
It is worth noting that each of the three main thematic sections contain between seven to nine subsections. Users can choose to view the entire set of items in the three main sections, or by each subsection. In all, around 180 items are available for U.S. history teachers and students. Each item contains a brief description and most images can be viewed in larger sizes and/or downloaded for educational use.
This collection by the Library of Congress is highly recommended for educators and students of American history who want to gain a better understanding of the historical relationship between politics and comedy. Although Bob Hope is the center of the exhibit, comedians and satirists throughout the twentieth century are included. The scope of the exhibit, largely covering the entire twentieth century, is likewise helpful in understanding how humor and political concerns changed over time.