At a Glance
Description
Access the human stories of the civil rights movement.
Website
Producer
Veterans of the Civil Rights Movement
Civil Rights Movement Veterans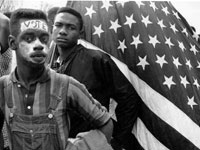 This site celebrates the commitment and efforts of veterans of the Civil Rights Movement. Introduction provides an overview of the website and the Movement.
Veterans Roll Call provides biographies (in some cases, autobiographies) of more than 500 veterans. It includes dates of activity, organizational affiliation, states they worked in, home states, contact information, and personal essays (of lengths ranging from one sentence to full essays). In Memory records the names of men, women, and children killed during the Civil Rights Movement, as well as names of veterans who have died. The Speakers List lists men and women who are available to speak or answer email inquiries.
Photo Album features more than 15 photo essays on subjects including sit-ins, the Freedom Riders, and the March on Washington. Photo annotations link to more information on the events depicted. Other resources including Civil Rights Movement posters, album covers, and pins, as well as photographs organized by photographer.
History & Timeline lists events by year, from 1951 to 1968. Some events include short descriptions; all include recommendations for print and online resources on the events.
Articles gathers together more than 50 documents by Civil Rights Movement veterans, some contemporary to events and some written later. Visitors can also download samples of literacy tests from Alabama, Mississippi, and Louisiana and view segregation laws. Documents archives contemporary documents created by CORE, NAACP, SCLC, SNCC, SSOC, and other organizations. Documents include newsletters, maps, plans, reports, minutes, government reports, and more. Also see Letters from the Field for more than 40 letters by Civil Rights Movement participants.
Our Stories includes interviews, stories, and other recollections from more than 80 veterans, while Our Thoughts includes more than 40 retrospective articles by veterans. Discussions preserves more than 20 online and transcribed discussions looking back on the Civil Rights Movement (most are modern, but they also include a 1956 discussion with Rosa Parks).
In addition, the website includes poetry by veterans, related links organized by topic, and a bibliography featuring age-specific book lists.
With the interviews, autobiographies, photos, documents, and discussions, the site includes a wealth of primary sources, and would be invaluable for any student researching the human side of the Civil Rights Movement.