At a Glance
Description
What entertainment might you have expected on a riverboat cruise in the early 1900s?
Website
Producer
Bruce Boyd Raeburn, Curator, Hogan Jazz Archive, Tulane University
Riverboats and Jazz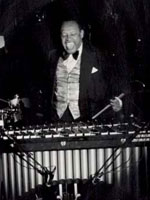 This exhibit offers more than 30 images of the riverboats, captains, staff, and musicians who helped to entertain the public with riverboat jazz and dance music from the turn of the 20th century to the 1960s. Images include musicians like Pete Fountain and Fate Marable's New Orleans Band, as well as riverboats like the S.S. President and several of the Streckfus Riverboat vessels. The Streckfus company helped to popularize the concept of riverboat cruises with dance music.
Each image is accompanied by a 250-word descriptive caption, as well as information on the location of the original image. There is no table of contents or index making it difficult to find images on specific subjects or persons, but this site is useful for providing illustrations and background information on the history of jazz and popular culture in the first half of the 20th century.