At a Glance
Description
Team up with the National Archives and Records Administration to bring primary sources into your classroom!
Website
Producer
National Archives and Records Administration
DocsTeach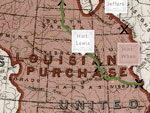 DocsTeach, a National Archives and Records Administration project, recognizes the need to bring primary sources into your classroom. To assist in the effort, NARA has pulled together thousands of primary sources, as well as a selection of pre-made activities and tools for building your own primary-source-centric activities.
Documents offers exactly what it sounds like it would—primary sources. The sources are divided into chronological categories—Revolution and the New Nation, Expansion and Reform, Civil War and Reconstruction, Development of the Industrial United States, Emergence of Modern America, Great Depression and World War II, Postwar United States, and Contemporary United States. Results can then be narrowed further by selecting audio/visual, charts/graphics/data, image, map, or written document. If you prefer, you can use a keyword search. All search results are shown with thumbnails to give you a small preview of the sources for your consideration.
Activities provides pre-made classroom activities. These require access to a computer, and are based on the same tools which the site provides for making your own activities. You can also sort them by historical thinking skill—chronological thinking, comprehension, analysis and interpretation, research capabilities, and issues-analysis and decision-making. Registering gives you access to a much larger collection, many of which are created by other educators. There is no registration cost.
If you're registered, consider making your own activity for use by yourself and others. There are tools which help students to create sequences, participate in analytical discussion, connect documents, geographically map documents, use documents to gain an understanding of the bigger picture, weigh evidence, and examine source context.
Take a moment to peruse the Teacher Resources as well. Here, you can find information on national history standards, using DocsTeach activities in the classroom, Bloom's taxonomy, and the National Council of Social Studies.
Read our Digital Classroom article on DocsTeach for more detailed information on using the site.