At a Glance
Description
This website gives a broad introduction to the Marshall Plan and is home to over 30 primary sources.
Producer
Library of Congress
For European Recovery: The Fiftieth Anniversary of the Marshall Plan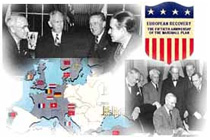 This exhibit from the Library of Congress is dedicated to the 50th anniversary of the speech by Secretary of State George Marshall that led to the formation of the Economic Recovery Program [ERP] of United States economic aid to post-World War II Western Europe. The site features more than 30 documents, including photographs and cartoons from the Prints and Photographs Division and photographs, letters, memos, and printed material from the papers of Averell Harriman, the ERP special representative in Europe from 1948 to 1950. These materials, accompanied by brief commentary and a list of key dates, document the origins and effects of this successful international initiative. A useful introduction to the subject.