At a Glance
Description
How does a nation react, legally and politically, to international terrorism?
Producer
Avalon Project, Yale University
September 11, 2001: Attack on America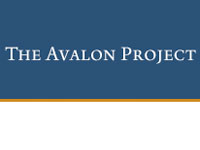 This site is an extensive collection of some 2,000 primary texts related to the terrorist attacks of September 11, 2001. It features documents in the fields of law, history, economics, politics, diplomacy, and government, and includes press releases, briefings, legislation, executive orders, proclamations, and public laws.
The documents (with factual errors corrected in annotations) have been collected from sources such as the White House, Departments of State, Defense, Transportation, and Justice, the European Union, NATO, and the OAS. Users can browse the long list, arranged chronologically, or can pull up documents via a variety of drop-down menus. They may also search the collection by keyword, or jump directly to a particular date from September 2001 through April 2002.
Comprehensive and well-organized, this is a valuable site for those researching the political and legal aftermath of the September 11 attacks.