At a Glance
Description
Annie Oakley could shoot 6 holes in a playing card before it touched ground. Invite this sharpshooter into your classroom!
Producer
American Experience, PBS
Annie Oakley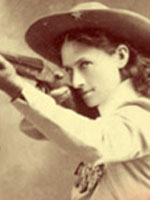 Born Phoebe Ann Moses in 1860 in rural Ohio, Annie Oakley became one of the most famous female entertainers of her day, performing for many years with Buffalo Bill's Wild West Show. Her life spanned a time of dramatic cultural change in the United States, and some of the most important years of the women's movement. This website accompanies a film on Oakley's life and work. While offering only a few primary sources, the website is rich with secondary source documentation. Users unfamiliar with Oakley's story may want to begin with the extensive timeline of her life, which traces her early years on a poor farm in Ohio, her involvement with the Wild West Show in the 1880s, 1890s, and early 1900s, the libel lawsuits she filed against 55 newspapers in the early 1900s, and her later years teaching women to shoot and raising funds for World War I.
The website includes profiles of 10 major people and events in Oakley's life, illustrated with thumbnail-sized photographs, as well as more extensive information on the Wild West Show's stints in New York City in the mid-1880s, including transcriptions from New York newspapers describing the shows. A gallery of six posters from the Wild West Show showcases Oakley's fame as one of the greatest marksmen of her time. The website also includes a transcript of the film, with extensive commentary by scholars of Oakley's life.