At a Glance
Description
Ever wonder about Irish immigration to Boston or family finances in the '60s?
Producer
University of Wisconsin-Madison
Data & Information Services Center: Online Data Archive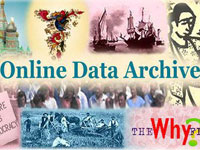 Provides 43 social science statistical data studies on a variety of topics. Created as a service to researchers at the University of Wisconsin-Madison, the site includes 12 studies dealing with Wisconsin-related topics, 14 additional studies on American subjects, and 15 studies dealing with general or international matters. Subjects pertaining to American history include Slave Movement during the 18th and 19th Centuries; Irish immigrants in Boston in 1847 and 1848; Characteristics of Census Tracts in Nine U.S. Cities, 1940-1960; the growth, consumption habits, and finances of American families in the 1950s and 1960s; financial characteristics of consumers in the early 1960s; premarital sexuality in 1973; Dynamics of Idealism: Volunteers for Civil Rights, 1965-1982; urban racial disorders of the 1960s; class characteristics of U.S. Council of Foreign Relations members, 1922-1969; and the role of the American family in the transmission and maintenance of socioeconomic inequality. (See separate "History Matters" entries for above-listed hyperlinked sites.) Valuable for those studying American social history, especially in the Cold War period.