At a Glance
Description
Fortify your knowledge of Eisenhower's international and domestic policies.
Producer
Dwight D. Eisenhower Memorial Commission and Johns Hopkins University Press
Presidential Papers of Dwight David Eisenhower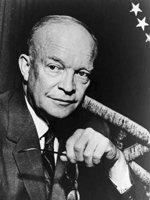 This website allows the user to search Eisenhower's presidential papers for both his first and second terms (volumes XIV through XXI of the published correspondence series). The correspondence deals with all aspects of the presidency, such as diplomacy and international relations, politics, national policy, and military affairs. The correspondence also includes Eisenhower's personal correspondence to and from family members and friends. The site is divided into first term papers, with 2,173 documents, and second term papers, with 1,782 documents. Each division is introduced by a 7,000-word essay written by the editors.
Both quick and advanced searches are available and there are three methods of browsing the papers: sequentially through "table of contents," by document number, or by subject using the "general index." Each paper is accompanied by footnotes and bibliographic references. There is also a monthly chronology available, along with bibliographies of primary and secondary sources. The site also lists 50 suggested readings and books by or about Dwight D. Eisenhower. For those researching the Eisenhower papers or his presidency, this website provides an invaluable resource.