At a Glance
Description
Pamphlets and documents from 1875 to 1900 highlight African American leaders and organizations.
Producer
American Memory, Library of Congress
African-American Perspectives: Pamphlets from 1818-1907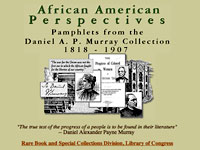 Nineteenth-century African American pamphlets and documents, most produced between 1875 and 1900, are presented on this website. These 350 works include sermons, organization reports, college catalogs, graduation orations, slave narratives, Congressional speeches, poetry, and play scripts.
Topics cover segregation, civil rights, violence against African Americans, and the African colonization movement. Authors include Frederick Douglass, Booker T. Washington, Ida B. Wells-Barnett, Benjamin W. Arnett, Alexander Crummel, and Emanuel Love. Publication information and short content descriptions accompany each pamphlet.
The site also offers a timeline of African American history from 1852 to 1925 and reproductions of original documents and illustrations. A special presentation "The Progress of a People," recreates a meeting of the National Afro-American Council in December 1898. This is a rich resource for studying 19th- and early 20th-century African American leaders and representatives of African American religious, civic, and social organizations.