At a Glance
Description
Examine this 1877 massacre from a total of 40 different perspectives.
Producer
Center for Digital Research in the Humanities, University of Nebraska-Lincoln, Douglas Seefeldt
The Mountain Meadows Massacre in Public Discourse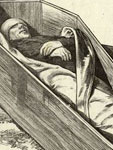 On September 11, 1857, roughly 120 members of the Baker-Fancher wagon train—bound westward towards California from Arkansas—were killed in Mountain Meadows, UT, by the local Mormon militia and their Indian allies. Once known as a welcoming oasis for wagon trains, subsequent reporting in newspapers and the proceeds of an official government investigation into this event transformed Mountain Meadows into a site of shame. Debates emerged over the causes of the massacre, with some arguing that the members of the Baker-Fancher party had abused local Mormon populations, and others arguing that the killings were largely unprovoked.
This website presents an archive of primary sources surrounding this event. Currently, the website presents 40 newspaper accounts written between 1857 and 1859 from newspapers in Arkansas, Chicago, California, and Nebraska. Eventually, the archive will also include government investigation reports; early Mountain Meadows Massacre histories in Western Americana; Apostate and Anti-Mormon publications; and fiction, drama, and film. Rather than re-hash the facts surrounding the massacre, the website focuses on the creation of documentation about the massacre, presenting primary sources that allow users to explore representations of the event from multiple perspectives.