At a Glance
Description
In the age of Amazon, take students back to a time when delivery in the U.S. was still developing.
Producer
Smithsonian National Postal Museum
100 Years of Parcels, Packages, and Packets, Oh My!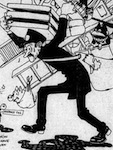 This website overviews the early history of the U.S. Parcel Post system. Although the website states that it examines "one hundred years of parcels, packages, and packets," most of the content is from the first few years of the service, 1913 through 1915. An introduction and six subsections—Congressional Opposition, The First Packages, The Oddest Parcels, The Service in Use, Preparing for All of Those Packages, and A Century of Posted Parcels—feature short essays and 25 photographs and cartoons.
Though the website is text-heavy, teachers could potentially use its resources with students to examine early 20th-century United States history or changes in communication within the United States.