America's Shifting Western Frontier
Question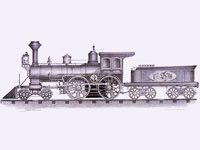 What was Ohio like during the Old West?
Answer
It depends on what you mean by "the Old West."
In 1828 a newspaper editor in Columbia, SC, referred to Kentucky as the "wild West." About the same time, a group of humor writers were producing stories about the "Southwest" referring to Kentucky, Arkansas, northern Mississippi, and Alabama. The stories certainly made the area seem wild: they often featured untamed boasting frontiersmen fighting one another with long knives, gouging out eyes, wrestling bears, and generally having themselves a wonderful time.
Even earlier, around 1800, the "West" referred to land that lay to the west of the Appalachian mountains and so would have included the territory that is now the state of Ohio. That territory was opened to settlement after the Revolutionary War as part of the Northwest Territory. In the territory's early years, the state of Connecticut claimed the northern part of what is now Ohio, referred to as the "Western Reserve."
If you mean, by the phrase "the Old West," the years portrayed in Western movies, dime novels, and "those thrilling days of yesteryear" when settlers moved across the Great Plains toward the Rocky Mountains and beyond, then that refers, very roughly speaking, to the period between the Civil War and the Spanish-American War.
Even at the beginning of the postwar period, Ohio had been thoroughly domesticated, in the sense that it was neither "wild" nor "West." It was geographically part of the middle of the country and had been cleared for farmland for decades. Parts of the state were heavily industrialized, especially in the cities on and near Lake Erie (Toledo, Sandusky, Akron, Youngtown, and Cleveland) and the cities in the southwest part of the state (Dayton and Cincinnati) that depended on the Ohio River for transporting goods. This was the case even before the auto industry further transformed the commerce of the state (a network of railroads also crisscrossed Ohio by that time). According to the Federal Census, Ohio's population in 1870 was a little over two and half million and by 1900 was four million, with most of the population being of German, Irish, English, Polish, and Italian ancestry.
For more information
R. Douglas Hurt, The Ohio Frontier: Crucible of the Old Northwest, 1720-1830. Bloomington: Indiana University Press, 1996.
Philip D. Jordan, Ohio Comes of Age: 1873-1900. Volume 5 of Carl Wittke, ed., The History of the State of Ohio. Columbus, Oh.: Ohio State Archaeological and Historical Society, 1944.
George W. Knepper, Ohio and Its People. 3rd edition. Kent, Oh.: Kent State University Press, 2003.
Bibliography
Grain elevator, "Operated by Union Railroad Elevator Company, Toledo, Ohio," Calvert Lithographic Company, 1882. Prints and Photographs Division, Library of Congress.
"Railroad engine." W. J. Morgan, Cleveland, Ohio, 1874. Prints and Photographs Division, Library of Congress.