At a Glance
Description
If you were a pioneer, what would you have to say about your schooling? Students take up their pens and invoke their democratic freedom of the press.
Producer
Joan Sandin, University of Arizona, and Arizona Humanities Council
Little Cowpuncher: Rural School Newspaper of Southern Arizona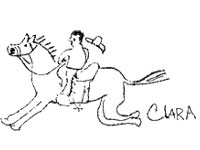 A work in progress, this site presents the southern Arizona school newspaper, Little Cowpuncher. Created by Anglo and Mexican American ranch children, from kindergarten through 8th grade, between 1932 and 1943 at five neighboring Arizona schools (Redington, Baboquivari, Sasco, San Fernando, and Sopori), the newspapers present the original and unedited stories, poems, and illustrations of students about their community and school life. The site includes a map that identifies the location of the five schools and users may select which newspaper they wish to examine by school and by year.
The newspapers include many stories about holiday celebrations, especially Halloween and Christmas. Also frequently featured are tales of rodeo activities and issues dedicated to graduating classmates. Other local events, such as an outbreak of chicken pox and droughts offer a unique perspective on the students' isolated rural lives.
Although the site is simply designed, middle and high school students and teachers will find that the newspapers present an opportunity to study pioneer Mexican and American ranch families and understand the bilingual and bicultural communities they created in Southern Arizona.