At a Glance
Description
Bring history home to young students with sources they can relate to—and prompt older students to think about the construction of concepts like "child" and "teenager."
Website
Producer
University of Missouri–Kansas City, Center for History and New Media
Children and Youth in History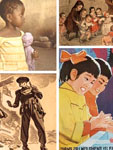 This website presents historical sources and teaching materials that address notions of childhood and the experiences of children and youth throughout history and around the world. Primary sources can be found in a database of 200 annotated primary sources, including objects, photographs and paintings, quantitative evidence, and texts, as well as through 50 website reviews covering all regions of the world. More than 20 reviews and more than 70 primary sources relate to North American history.
The website also includes 20 teaching case studies written by experienced educators that model strategies for using primary sources to teach the history of childhood and youth, as well as 10 teaching modules that provide historical context, strategies for teaching with sets of roughly 10 primary sources, and a lesson plan and document-based question. These teaching resources cover topics ranging from the transatlantic slave trade, to girlhood as portrayed in the novel Little Women, to children and human rights. Eight case studies relate to North American history, as do two teaching modules.
The website also includes a useful introductory essay outlining major themes in the history of childhood and youth and addressing the use of primary sources for understanding this history.