At a Glance
Description
A collection of U.S. and military maps useful for a variety of research.
Producer
Perry-Castaneda Map Collection, University of Texas, Austin
Historical Maps of the United States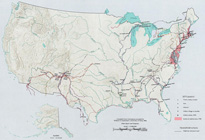 This division of the Perry-Castaneda Map Collection provides access to 500 historical maps of the U.S. Maps are sorted thematically and include three maps of early inhabitants, 11 of exploration and early settlement from 1675 to 1854, and 15 of territorial growth from 1775 to 1970. Of the 95 military history maps covering engagements from 1763 to 1967, 50 are about World War II alone.
Among 183 late 19th- and 20th-century maps, there are 146 of U.S. cities produced around 1920. Historic sites, memorials, and battlefields are represented in 191 maps of sites such as Aztec ruins in New Mexico, the Bering land bridge in Alaska, and the Vicksburg battle site in Mississippi. Most of the maps are excerpted from 20th-century historical atlases. The site will be particularly useful for research in military history and early 20th-century urban history.