At a Glance
Description
Follow the journey of two men through the western United States.
Producer
New York Public Library Digital Collections
Surveyors of the West: William Henry Jackson and Robert Brewster Stanton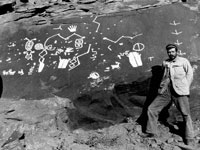 This site presents the journals and photographs of two men who surveyed the western states in the second half of the 19th century. William Henry Jackson was a photographer, artist, and writer who traveled along the route of the Union Pacific Railway in 1869. The site provides access to his journal of the expedition, 36 stereoscopic photographs he took along the way, and 13 mammoth prints Jackson made of sites in Colorado and Wyoming. Jackson's diary describes how he took and developed photographs during the expedition. Robert Brewster Stanton was a civil engineer who surveyed canyons in Colorado for the Colorado Canyon and Pacific Railroad Company between 1889 and 1890. Visitors to the site can read a facsimile of his typed field notes in four volumes. The notes and 36 photographs provide geologic information, but also give a sense of the everyday life of the expedition. The site includes a 500-word biographical essay for each man and finding aids for the larger collections of their papers housed at the New York Public Library. This site is easy to navigate and is useful for studying western states, the environment, and photography in the 19th century.