At a Glance
Description
What was health care like during segregation?
Producer
Norman L. Foster and Harold W. Neighbors, University of Michigan Medical School
Kellogg African American Health Care Project: The Oral Histories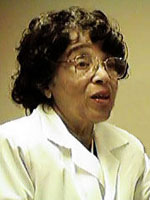 This project, "Documenting the Health Care Experiences of African Americans in Southeastern Michigan: The Compilation and Dissemination of Primary Resources Relating to Health Care, the Health Professions and the Health Sciences," is based at the University of Michigan Medical School and sponsored by the W. K. Kellogg Foundation of Michigan. It was developed to study the experiences of African Americans during the era of segregated health care and their implications today. Researchers have collected oral histories of African-American health professionals and patients, from physicians, nurses, dentists, and administrators to non-traditional health care providers. The project also addresses contemporary issues, recording concerns of Michigan health care providers and policymakers about the "lack of understanding about the current needs and attitudes of African Americans with regard to health care." The website provides background biographical information and interview excerpts for more than 40 individuals. The biographies are roughly 300 words; the excerpts range from 300 to 1,000 words. Complete transcripts are available in five repository libraries in Michigan. In addition, a section on "Hospital Histories" provides background information on more than 20 black-owned and black-operated hospitals in Detroit, MI, during the 20th century.