At a Glance
Description
What do the songs people sing tell us about their lives?
Producer
American Memory, Library of Congress
Historic American Sheet Music, 1850-1920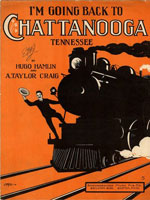 This American Memory project, a collaboration between the Library of Congress and Duke University, provides a window on American culture between 1850 and 1920 by offering more than 3,000 pieces of sheet music from Duke University's Rare Book, Manuscript, and Special Collections Library. These musical pieces represent American history and culture through a variety of music types including minstrel, protest, sentimental, patriotic, and political songs, bel canto, spirituals, dance music, vaudeville, and musical pieces.
The collection is particularly strong in antebellum Southern music, Confederate imprints, and Civil War music and includes a large collection of piano marches, opera excerpts, waltzes, polkas, and quadrilles as well.
In addition to the music and lyrics, each item includes an image of sheet music cover illustrations, which provide further perspective on contemporary ideas about politics, patriotism, race, religion, and sentiment. Descriptive remarks, including notes on the composer, publication information, repository, and a transcription of lyrics accompany each item.
The site also offers a 750-word essay; a link to Duke University's home page for sheet music collections; a 1,000-word essay that defines sheet music as a cultural medium and outlines the history of music publishing in the U.S.; a bibliography of more than 150 works on the history of sheet music, composers, musicians, and performers in the U.S.; and links to five other American Memory collections with related materials.
The site is searchable by keyword and browseable by composer name and subject. Students and teachers researching American cultural history or the cultural significance of music in the late 19th and early 20th centuries will find this site useful.