At a Glance
Description
Displays 416 situation maps from World War II.
Producer
American Memory, Library of Congress
Northwestern European Military Situation Maps from World War II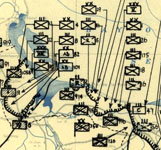 Created by the First United States Army Group and the Twelfth Army Group, this collection consists of 416 situation maps from World War II. The maps show the daily positions of Allied army units during the campaigns in Western Europe, from the D-Day invasion on June 6, 1944, through Allied occupation in July 26, 1945. There are also more than 100 reports from the campaigns.
Maps offer insight into daily activities, but also a broad view of movement over time. In addition, they highlight the incomplete nature of information available to commanders in the field during war time. Visitors can search the collection or browse the maps and reports by title, creator, subject, place, or date. The site also includes an interactive essay on the Battle of the Bulge. Visitors can select the desired zoom level and window size for viewing maps.