At a Glance
Description
Watch some Texas history, submit your own, or learn to make local documentaries.
Producer
Texas Archive of the Moving Image
Texas Archive of the Moving Image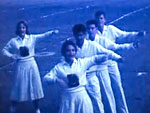 The Texas Archive of the Moving Image (TAMI) hosts more than 1,000 streaming videos about Texas, shot by Texans, or created in Texas. Users who have appropriate footage, including home videos, can have their films digitized and added to the collection free of charge.
Of the four main navigational buttons, the one to pay attention to is "Teach Texas." This opens a page leading to lesson plans; information on how to implement TAMI resources in the classroom; collection browsing options; and "Documenting History," a documentary-making activity.
Lesson plans can be browsed by grade level, starting with a K-3 category, or by general topic. Specific topics covered include the 1900 Galveston hurricane; 20th-century business; oil; Japanese, Italian, and German internment in World War II; festivals; cattle; the Dust Bowl; the aerospace industry; Lyndon B. Johnson and civil rights; the Vietnam War; the World War II home front; and Gulf Coast hurricanes. Lesson plans are structured, offering, for example, objectives; lists of useful prior knowledge and/or activities to engage said knowledge; hooks; the activity itself, including films to watch, questions to address, and readings to complete; worksheets; resources; and lists of Texas state standards.
Using Archival Film in the Classroom holds best practice suggestions for preparation prior to class, in class (before, during, and after a film viewing), and further resources on using film to teach.
Documenting History is a multi-day lesson plan, which culminates in group documentaries discussing local people, events, or items. While the idea is to collect Texas history, the plan can easily be implemented elsewhere without the possibility of adding the videos to the TAMI. In addition, the plan includes information on free video editing software, so, while there are equipment requirements, you do not need your school to possess expensive editing software to put the plan into action.
Finally, Curated Collections offers video sets on home movies, Lyndon B. Johnson, Austin television, local films, Texas and the Vietnam War, Speakers of the Texas House of Representatives, and the U.S.-Mexico frontier.