At a Glance
Description
View contemporary coverage of the Civil Rights Movement from two Roanoke, VA television stations.
Producer
Will Thomas, University of Virginia
Television News of the Civil Rights Era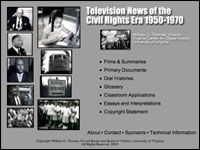 In the 1950s and 1960s, the Civil Rights Movement was covered on news stations around the country. This website provides 230 of these video clips from two local television stations in Roanoke, Virginia. Clips feature both national events, such as the speeches of Martin Luther King, Jr. and John F. Kennedy, as well as footage of local school desegregation, protests, and interviews on the street.
Accompanying this footage are 14 oral histories (several from Virginians with firsthand knowledge of the Prince Edward Public Schools closing), and 23 documents that chronicle the official development of Massive Resistance in Virginia, in particularly the involvement of Senator Harry F. Byrd. "Essays and Interpretation" provides important historical context and analysis, with detailed pieces on "Virginia's Massive Resistance to School Desegregation" and the development of television news coverage of the Civil Rights Movement in Virginia and Mississippi.