At a Glance
Description
Do films capture your students' attention? Introduce them to Roosevelt in motion.
Producer
American Memory, Library of Congress
Theodore Roosevelt: His Life and Times on Film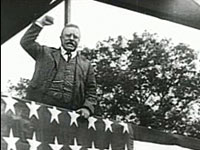 Although he was not the first president to be filmed for motion pictures, Theodore Roosevelt was the first to have his life chronicled through extensive use of the then-new medium. This site, part of the Library of Congress American Memory Collection, offers 104 films depicting events in Roosevelt's life, from the Spanish-American War in 1898 to his death in 1919. The Theodore Roosevelt Association Collection provided 87 of the films and the remainder came from the Library of Congress Paper Print Collection of the Motion Picture, Broadcasting, and Recording Sound Division.
The films include scenes of Roosevelt with world figures, politicians, monarchs, friends, and family members. The films are not accompanied by lengthy explanatory text; they include only a brief, 10–15 word caption describing their contents.
Special presentations on this site include: a film chronology offering a timeline with 150–200 word outlines of each period in Roosevelt's life covered in film; a text-based timeline from Roosevelt's birth in 1858 to his death in 1919; "T.R. on Film," a roughly 750-word scholarly essay; four sound recordings, with transcriptions, Roosevelt made for Edison company in 1912 in which he stated his progressive political views; and an image of "Theodore Roosevelt: The Picture Man," a 2,000-word article from a 1910 The Moving Picture World magazine.
See also the 250-word description of the collection, a 15-work selected bibliography on Theodore Roosevelt and motion pictures, and links to four related websites. A "Learn More About It" section includes 12 other Library of Congress special presentations and related collection sites for those who wish to learn more about Roosevelt and his times. This site is a good resource for learning about Theodore Roosevelt and the United States around the turn of the 20th century.