At a Glance
Description
Was Japanese American internment constitutional? Explore the Japanese American experience.
Producer
Smithsonian Institution, National Museum of American History
A More Perfect Union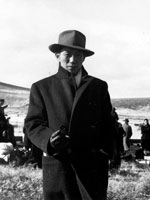 Based on a 1987 Smithsonian exhibition, this site allows visitors to click and drag through sections of text, music, personal accounts, and images that tell stories of the forced—and ultimately determined to be unconstitutional—internment during World War II of 120,000 Japanese Americans living on the West Coast. Also provides searching capabilities to retrieve images of more than 800 artifacts relating to the lives of those interned.
Sections in the narrative cover immigration, removal, internment, loyalty, service, and justice. Provides a 5,000-word audio file of interview excerpts; 6,400-word accompanying text from the 1994 traveling exhibition; annotated timeline; 72-title bibliography; 20 links to related sites; and two classroom activities. Also invites visitors to share their responses and to read those of others. Of value to students of Asian American history, the homefront during World War II, and constitutional issues.