At a Glance
Description
What is Congress? Why should anyone care?
Website
Producer
Indiana University
Center on Congress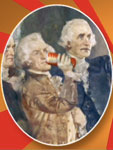 The Center on Congress, led by former U.S. Representative Lee Hamilton, exists to help the public better understand the role of Congress and the public's relationship to it. Their audience includes the general public, teachers, and journalists.
Your first thought as an educator may be to click on Teacher Resources. However, this section is more of a gateway to content in Learn About Congress than a section unto itself. That said, Classroom Resources does include a tool for paring down the site's educational materials to the appropriate grade level and topic, as well as best practices videos of lessons in action.
Learning About Congress has the widest variety of content useful to the K-12 educator. Resources include approximately 8 interactive modules, more than 20 short animated videos, a collection of live-action video clips of "insider views," more than 30 brief audio presentations on issues ranging from disaster relief to bilingual education, and a variety of relevant reading material. The spoken narration on the interactive modules tends to be dry, and would more than likely only be of use in the higher grades. However, the animated videos are enthusiastically narrated, making them more appropriate for a wider range of viewers. A free Citizen's Guide helps to connect daily life to the actions of Congress. The guide is not unlike a textbook in terms of language and graphic design. As such, its format should be readily accessible and familiar to the average student.
Depending on your computer access and comfort with online activities, you may also be interested in the Virtual Congress where your students can create members of Congress, move their avatars through digital recreations of key locations, and participate in a "multi-player" setting proposing legislation. Another option is Teaching with Primary Sources, a joint effort between the Center on Congress and the Library of Congress, providing separate entry points for teachers and students. These offerings require free registration.
Other items of interest on the site include results of public and political scientists' surveys on Congress' function, beginning in 2002; a blog concerning topics relevant to current Congressional issues; and Congressional FAQs. Teachers can also apply for the American Civic Education Teacher Awards.