At a Glance
Description
Explore river life—with a particular focus on food harvesting.
Producer
Illinois State Museum, Havana Public Library District, Meredosia River Museum
Harvesting the River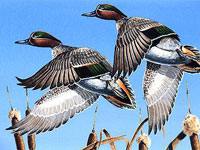 Presents a narrative in exhibit format—with hyperlinks to archival documents and photographs—on the cultural and economic life of the people who came to the Central Illinois River region from 1875 to 1950. Organized into three sections on the harvesting of fish, waterfowl, mussels, and natural ice; transportation by boat, railroad, and plank roads; and the settlement and development of six area river towns. The site delivers oral histories (audio and video), as well as illustrations and photographs. It may serve as a useful introduction to those studying this particular region and regional history in general.