At a Glance
Description
How do Native Americans preserve their heritage in the world of today?
Producer
Smithsonian National Museum of the American Indian
Living Voices, Voces Vivas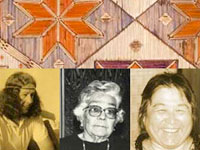 Provides audio files of 40 Native Americans and Native Hawaiians talking about their diverse lives, experiences, histories, and traditions, with an emphasis on illuminating their present-day concerns and projects. Those interviewed come from Canada, Mexico, and Panama, in addition to various parts of the U.S., and include leaders of organizations dedicated to the preservation of indigenous traditions and languages, artists, writers, musicians, teachers, scientists, activists, tribal leaders, students, and scholars. Includes religious leaders, the head of a successful gaming establishment, an illusionist, and a former Miss Indian World. The site is divided into English- and Spanish-language sections. Each talk lasts from three to five minutes; some talks are translated into English or Spanish for the appropriate section.
Access to the interviews is provided in two ways: through a "flash site" to accommodate high-speed connections, and via an HTML site for those with slower modems. The latter site includes interview transcripts. Valuable for those studying the history of Native peoples and ways that past traditions are consciously preserved in present-day cultures.