At a Glance
Description
How has the birth control pill altered sexuality and feminine gender expectations?
Website
Producer
American Experience, PBS
The Pill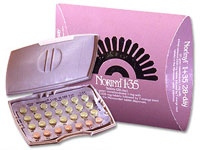 Designed as a companion to the PBS film, this site documents the development of the birth control pill and its effect on women's health. The site offers a synopsis of the film (approximately 1,000 words) and about a dozen primary sources, including letters between birth control pill researchers. The site also includes a timeline that documents references to birth control as far back in history as Biblical Genesis.
A Gallery showcases approximately 15 birth control pill package designs. People and Events introduces visitors to the researchers (including Margaret Sanger) who dedicated years to the project, as well as milestones in the pill's development. Special Features uses a Flash presentation to demonstrate how the pill works to prevent pregnancy, explores the many shifts in sexual attitudes that have been attributed to the pill, and asks viewers to participate in an online poll.
A Teacher's Guide features lesson plans in geography, civics, history, and society, and presents challenging exercises for students. For example, one exercise asks students to survey the effect geography had on sexual attitudes by comparing laws about contraception from state to state in 1960.
Although the site is not a comprehensive archive, the primary sources and multimedia exhibits make it valuable, especially for research into birth control and women's issues.