At a Glance
Description
Explore the history of Florida folklife and culture.
Producer
American Memory, Library of Congress
Florida Folklife from the WPA Collections, 1937-1942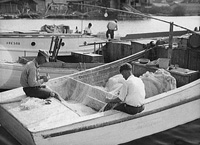 From 1937 to 1942, members of the Florida Writers Project, the Florida Music Project, and the Joint Center on Folk Arts of the Works Project Administration documented the wide variety of cultures throughout Florida through the folk songs and folk tales of the African-American, Arabic, Bahamian, British-American, Cuban, Greek, Italian, Minorcan, Seminole, and Slavic peoples living in Florida. The American Memory Project at the Library of Congress now offers a selection of the multiformat ethnographic field collection that represents these diverse cultures. The online exhibit includes 376 sound recordings of folk songs such as blues, fishing boat and railroad gang work songs, children's songs, dance music, and religious music. Each recording includes descriptive information on the duration of the sound clip, where the piece was performed and the performers involved, brief (10-15 words) special notes about the piece, ethnic group(s) represented, language(s) in which the piece was performed, instrumentation, and when and where the piece was created.
The collection also includes 24 "life history" interviews of Floridians from specific ethnic backgrounds, 65 images and transcripts of correspondence, two recording logs, and 25 transcriptions of song texts. Two 2000-word essays on Florida folklife and the Works Project Administration in Florida help to contextualize the online exhibit. Also included are a bibliography of over 120 scholarly works, a list of 18 related websites, and a 1000-word guide to the ethnic and language groups of Florida. Visitors can browse this site by performer, audio or manuscript title, and geographic location. For those interested in folk life and culture, Florida history, and the variety of WPA projects during the New Deal, this easily navigable site is a good resource.