At a Glance
Description
Inspect nine early land dispute treaties between the Native Americans and the British or U.S.
Producer
University of Nebraska Libraries, Electronic Text Center
Early Recognized Treaties with American Indian Nations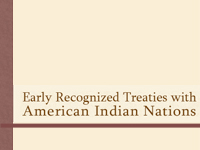 This website presents the first seven treaties between the British and American Indian Nations, along with two treaties ratified with the United States in later years. These nine treaties provide a complement to Charles J. Kappler's Indian Affairs: Laws and Treaties, a compendium of 366 treaties (digitized by the Oklahoma State University Library Electronic Publishing Center), now making all federally recognized treaties with American Indian Nations available in electronic format. These nine treaties range in date from 1722, The Great Treaty of 1722 Between the Five Nations, the Mahicans, and the Colonies of New York, Virginia, and Pennsylvania, to 1805, A Treaty Between the United States of America and the sachems, chiefs, and warriors, of the Wyandot, Ottawa, Chippewa, Munsee, and Delaware, Shawnee, and Pattawatamy nations.
Most of the treaties are long, detailing proceedings that occurred over the course of at least several days. They address topics such as land and boundary disputes, and shed light on the ceremony surrounding these meetings. Facsimile copies of the original printed versions of all nine treaties are available, as are transcripts. Though there is no keyword search feature, transcribed text appears on one page, facilitating the use of a computer's "Find" function.