At a Glance
Description
View maps created during the early stages of surveying Illinois.
Website
Producer
Illinois State Archives
Federal Township Plats of Illinois, 1804-1891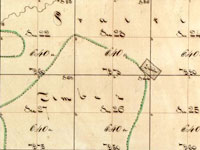 Designed as both an archive and an online exhibit, this site features 3,457 hand-drawn township maps of Illinois. When the government began surveying in 1803 what would later become Illinois, they divided the land into squares six by six miles (36 square miles) called townships. This site includes a 1,000-word introductory history describing the surveying process and introducing the methods and tools of surveyors. Also included here are the maps, available to researchers and the public. A 1,000-word narrative outlines the role of the United States Surveyor General, and traces the custody of these records through the years.
Visitors use a map of Illinois to locate the region and county of the plat they wish to view, and can pan left and right or zoom in and out. A legend helps users decipher early 19th-century symbols. In addition, the site links to an Illinois state website (Illinois Public Domain Land Tract Sales), where researchers can search for the first owners of plats. This site is a great place to view original, early-19th-century maps of Illinois.