At a Glance
Description
Presents more than 55,000 Chicago Daily News photographs taken in the early 20th century.
Producer
American Memory, Library of Congress and Chicago Historical Society
Photographs from the Chicago Daily News: 1902-1933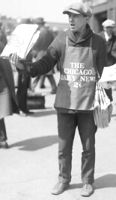 More than 55,000 photographs taken by staff photographers of the Chicago Daily News during the first decades of the 20th century are available on this website. Roughly 20 percent of the photos were published in the paper. The Chicago Daily News was an afternoon paper, sold at a cost of one cent for many years, with stories that tried to appeal to the city's large working-class audience.
The website provides subject access to the photographs, which include street scenes, buildings, prominent people, labor violence, political campaigns and conventions, criminals, ethnic groups, workers, children, actors, and disasters. Many photographs of athletes and political leaders are also featured. While most of the images were taken in Chicago and nearby areas, some were taken elsewhere, including at presidential inaugurations. The images provide a glimpse into varied aspects of urban life and document the use of photography by the press during early 20th century.