At a Glance
Description
How was the 1955–1956 Montgomery Bus Boycott covered in Montgomery? Take a look with this archive from a Montgomery newspaper!
Producer
The Montgomery Advertiser
The Montgomery Bus Boycott: They Changed the World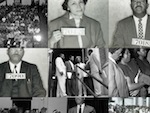 This website is a detailed look at the Montgomery Bus Boycott of 1955–1956 as covered in the Montgomery Advertiser. It includes more than 20 oral histories, more than 40 archival news stories, and more than 20 images of the event. A 3,000-word overview section provides details regarding the boycott, the people involved, why it occurred, and the outcome. A biography section includes more details regarding the individuals involved with the boycott. A memorial page for Rosa Parks, one of the most visible figures of the Montgomery Bus Boycott, includes photos, videos, and news articles from the Montgomery Advertiser regarding her death. "Voices of the Boycott" includes oral histories from the participants of the boycott.
The site also includes an archive of stories from the Montgomery Advertiser and the Associated Press regarding the boycott. This includes front page stories, as well as smaller news stories from within the newspaper. Finally a photo gallery contains booking photos, images of speeches, and photos of the events. None of the images in the gallery are graphic in nature.
Though the site is very user-friendly and all information easily accessible, it is somewhat limited in its focus on primary sources directly tied to the Montgomery Advertiser. Still, this website could potentially be useful for educators and students looking to supplement their studies on the U.S. Civil Rights Movement, especially due to the inclusion of the oral histories.