At a Glance
Description
Use New Jersey during the American Revolution as a national microcosm.
Producer
Kean University, New Jersey Historical Commission, Montville Township School District
New Jersery History Partnership Project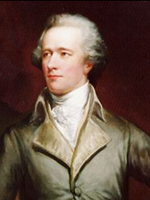 This project was designed to teach U.S. history through New Jersey history. Currently, materials are organized under two themes. "American Revolution" contains 10 lectures and nine lesson plans, seven images of New Jersey historic sites such as Liberty Hall and Morven, 47 primary source documents on topics such as women, African Americans, the state constitution, the Quakers, and the Lenape, seven video clips on topics such as republican motherhood, the Great Awakening, and the battles of Trenton and Princeton, and an interactive exercise on the 1776-1777 campaign in New Jersey. Lesson plan topics include revolutionary heroes, African American quest for freedom, and the Battle of Trenton. A timeline integrating U.S. and state history events from 1734 to 1807 is also included.
A less extensive thematic section "Market Revolution" offers a lecture, a lesson plan, and a video clip on New Jersey's transportation revolution, seven primary source documents that include an 1839 map of New Jersey and a map of the Morris Canal, and a timeline. Links are provided to three partner institutions, eight history centers or organizations, and 30 New Jersey history centers, organizations, or historic sites. This website provides useful resources for those teaching the 18th- or early 19th-century history of New Jersey.