At a Glance
Description
A variety of resources focused on the life and times of infamous abolitionist John Brown.
Producer
American Experience, PBS
John Brown's Holy War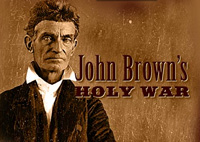 This companion site to the 1999 PBS documentary on John Brown uses special features, a timeline, an interactive map, short biographies and histories, and a teacher's guide to explain the story of Brown's life and times. The site offers special features on the Maryland farmhouse where John Brown assembled his men before their raid on Harpers Ferry, the Harpers Ferry firehouse where Brown's raiders were captured, a history of the famous song "John Brown's Body," and a short essay on Brown's failures as a businessman before he became a radical abolitionist. The timeline traces the major events of Brown's life from 1800 to 1865. An interactive map follows Brown's movements across the country from his birth in 1800 to his execution and burial in 1859. The "People and Events" section features short biographical essays on Brown, abolitionist Frederick Douglass, abolitionist newspaper editor James Redpath, writer Henry David Thoreau, 1859 Virginia Governor Henry A. Wise, and "The Secret Six"--the radical abolitionists who funded Brown's raid on Harpers Ferry. The section also features short histories of four events of Brown's radical abolitionist crusades: the Pottawatomie Massacre in Kansas, Brown's Missouri raid, the Harpers Ferry raid, and Brown's hanging. The teacher guide offers discussion questions and four classroom activities.