At a Glance
Description
Exhibit and archive featuring an extensive collection of primary source material on the 1906 natural disaster and the fire that followed.
Producer
Bancroft Library, University of California, Berkeley
The 1906 San Francisco Earthquake and Fire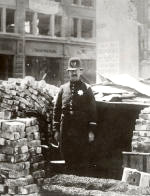 Created to commemorate the 100-year anniversary of the San Francisco earthquake, this exhibit and archive features an extensive collection of primary source material, an interactive map, and a 360-degree view of the damage to the city. The primary sources include thousands of images and text files available, offering more than 8,000 photographs, 500 cityscapes, and 500 letters, as well as a host of additional resources, such as broadsides, oral history texts, periodical articles, photomechanical prints, reports, and stereographs. Visitors can browse the archive by genre or subject or search by keyword, subject, genre, or geographic location.
The exhibit has five galleries, each with several text/photograph displays: San Francisco before the fire; the earthquake; the fire, including a map showing burned districts; the story of refugees and survivors; and reconstruction. The interactive map divides San Francisco into 10 regions, each of which can be browsed or searched for images taken in that region. It also includes 11 aerial cityscape views. The 360-degree panoramic view of San Francisco shortly after the disaster is composed of 11 separate photographs taken from the roof of the Fairmont Hotel.