At a Glance
Description
Experience selected artworks by African American artist Jacob Lawrence while learning about his life.
Website
Producer
Phillips Collection
Jacob Lawrence: Over the Line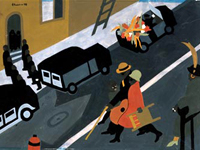 Jacob Lawrence (1917–2000) examined the African American experience through art. This website was created in 2001 to accompany an exhibition exploring his life and work. The website (with a flash version and an html version) provides a straightforward account of Lawrence's life and work accompanied by images.
The site is presented in three parts, "Beginnings," "The Young Artist," and "Over the Line," each organized as a sequence of pages consisting of short descriptions (50 words) and associated images. There are two short audio clips of Lawrence talking about Harlem and color. The images are relatively small and cannot be enlarged.