At a Glance
Description
History can be revealed through the study of maps, as these exhibits containing more than 600 maps and related documents explain.
Producer
Smith Center for Cartographic Education, University of Southern Maine
Osher Map Library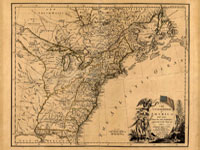 These 14 exhibitions include more than 600 maps and related documents on aspects of history revealed through the study of maps. The website provides well-integrated essays of up to 8,000 words for each exhibit and some annotated bibliographies.
Exhibits focusing on American history include "Mapping the Republic," on conflicting conceptualizations of the U.S. from 1790 to 1900; "Exodus and Exiles," on Diaspora experiences of Jews and African Americans; "The American Way," a collection of 20th-century road maps and guidebooks; "Carto-Maine-ia," on popular uses of maps; and "Maine Wilderness Transformed," that examines "the creation of a landscape of exploitation."
In addition, "The Cartographic Creation of New England," addresses European exploration and settlement, "The 'Percy Map,'" presents a significant Revolutionary War map; and "John Mitchell's Map" offers insight into diplomatic disputes. These maps are especially valuable for studying exploration and cartography in American history.