At a Glance
Description
Witness farming at the turn of the 20th century with this collection of photographs.
Producer
American Memory, Library of Congress and North Dakota State University
Photographs from the Fred Hulstrand and F. A. Pazandak Photograph Collections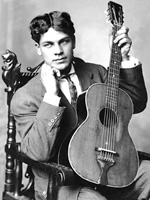 Furnishes approximately 900 photographs from two collections at the Institute for Regional Studies at North Dakota State University. A professional photographer from northeastern North Dakota who sought to document the settlement of the Great Plains produced the "Fred Hulstrand History in Pictures Collection." The "F. A. Pazandak Photography Collection" includes photographs taken by a southeastern North Dakota farmer as mechanization began to change his family farm. Images portray everyday rural and small town life, mostly from 1880-1920, and include shots of farmers, farm machinery, children, one-room schools, and workshops. The site also provides a historical overview of North Dakota, a 300-word history of farm machinery companies, and presentations entitled "Implements Used on the Farm," "Schooling," "Women," "Sod Homes," "Immigrants," "Steam Engines and Tractors," "Hired Hands," and "Golden Age of Agriculture." An annotated bibliography of 61 titles provides a guide for further research. This site includes important visual documentation on changes in rural communities and farming practices during the late 19th and early 20th centuries.