Central Question: How can the story of coal help students understand the nature of today's fossil-fueled world?
What Textbooks Say
Most textbooks explain the phenomenal growth of the American economy during the industrial revolution by some combination of immigration, urbanization, the rise of mass production, the inventiveness of great scientists, the development of extensive infrastructure, the rise of corporations, government subsidies, the "laissez-faire" legal environment, and the bounty of America's natural resources.
[...] »
What Historians Say
Historians also treat economic growth during the industrial revolution as the product of many factors, but some seek out explanations and track changes beyond the few tidy categories laid out in textbooks. How, for instance, did the U.S. transition to coal power, and how was that transition both driving and driven by urbanization, mechanization, and a growing infrastructure? What effect did it have on the environment and living conditions?
[...] »
What Sources Say
Sources reveal a society suffering from growing pains, with environmental and human rights concerns not yet keeping pace with the huge demand for raw coal and power to support rapidly expanding systems of infrastructure and industry. A nationwide dependency on mining sprang up unplanned, at the root of many of the changes in the U.S.'s culture and economy.
[...] »
Abstract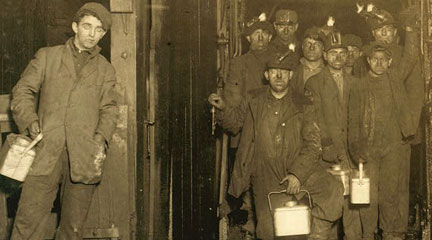 Why did the American economy take off in the late 19th century? What were the consequences of the nation's industrial ascendancy? Textbook treatments of what some historians call the "second industrial revolution"—the period of rapid and tumultuous economic expansion that stretched from the 1860s into the 1900s—can seem superficial and unsatisfying in comparison to neighboring sections on social change, political conflict, and cultural ferment. A better understanding of the story of coal, too often ignored by textbook authors, can provide students with important understandings about the nature of today's fossil-fueled world.
Read the full essay and explore the sources. »