At a Glance
Description
Offers oral history resources examining life in southern textile mill towns from the 1880s to the 1930s.
Website
Producer
James Leloudis and Kathryn Walbert, University of North Carolina at Chapel Hill
Like a Family: The Making of a Southern Cotton Mill World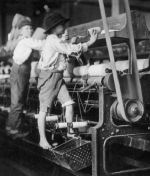 The companion to a book of the same name, this website offers selected oral history resources that examine lives in southern textile mill towns from the 1880s to the 1930s. The site is divided into three sections. "Life on the Land" discusses agricultural roots of the rural south, changes in farm labor after the Civil War, and economic factors that caused the transition to mill work in the late 19th century. "Mill Village and Factory" describes work in the mills and life in the company mill towns. "Work and Protest" discusses labor protests of the 1920s, formation of unions, and the textile strike of 1934.
The site contains 15 photographs and nearly 70 audio clips drawn from oral history interviews with descendants of millhands and others involved in the history of the Southern textile industry. There are valuable links to Southern history, oral history, and textile mill history websites. This site is ideal for studying rural southern life and labor history from Reconstruction through the 1930s.