At a Glance
Description
Watch and listen to thousands of public broadcasting programs from across the U.S.
Producer
The Library of Congress and WGBH Educational Foundation
American Archive of Public Broadcasting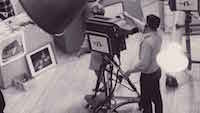 In October 2015, the Library of Congress and the WGBH Educational Foundation launched the American Archive of Public Broadcasting (AAPB) Online Reading Room, providing streaming access to nearly 10,000 public television and radio programs from the past 60 years. The entire AAPB collection of more than 68,000 files – approximately 40,000 hours of programming – is available for viewing and listening on-site at the Library of Congress and WGBH.
The collection contains thousands of nationally-oriented programs. The vast majority of this initial content, however, consists of regional, state, and local programs selected by more than 100 stations and archives across the U.S. that document American communities during the last half of the 20th century and the first decade of the 21st. The collection includes news and public affairs programs, local history productions, and programs dealing with education, science, music, art, literature, dance, poetry, environmental issues, religion, and even filmmaking on a local level.
The site also provides three curated exhibits of broadcasts pertaining to the southern civil rights movement, climate change, and individual station histories.