At a Glance
Description
This collection of short videos recognizes the civil rights movement as ongoing struggle.
Producer
NBC Universal Media
Finishing the Dream: Learning from the Civil Rights Era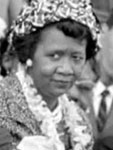 This subsection of the NBC Learn website offers 132 streaming short videos related to the civil rights movement.
Videos include commentaries following major events (closely or years in retrospect), original testimonies, and video of events such as the signing of the Voting Rights Act of 1965. Topics include Emmett Till, bus boycotts, Brown v. Board of Education, the Freedom Riders, Little Rock, African American attendance at the University of Mississippi, Medgar Evers, the March on Washington, the Birmingham Church Bombing, Malcolm X, 1964 voter registration volunteer disappearances, and King's assassination.
The last section, Finishing the Dream, contains footage from four town hall events, which brought together activists, educators, religious leaders, and high school and college students for discussion of issues related to the civil rights movement.
The 132 videos are divided into subsections by year, beginning with 1954 and continuing through 1968. All videos include a transcript. Select the clip, and the word "transcript" will appear to the right of the video. Click it to bring up a scrollable transcript alongside the film.
You may also be interested in exploring further on the NBC Learn website. However, the majority of the content is subscription-based. You can sign up for a 30-day free trial, though, in order to test the waters.