At a Glance
Description
A highly comprehensive look at the Vietnam War.
Producer
Texas Tech University
The Vietnam Project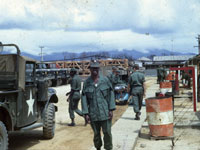 This site presents nearly 1 million pages of Vietnam War-related research materials. It includes the full text of more than 80,000 documents, 60,000 photos and slides, hundreds of interviews with veterans and other participants, streaming audio and video recordings, and much more. The more than 685,000 pages of documents include official government and military records, unit and operation action reports, unit rosters, staff journals and morning reports, personal letters, and diaries. The collection grows by some 20,000 pages of new material each month.
Visitors may find useful the Acronym Database (to help with those mysterious and persistent military acronyms). The search engine has been recently updated, and no longer supports simple searches; all searches are advanced. The archive limits the number of users at any one time, due to licensing issues, so the site may be unavailable during times of heavy use.
Convenient, powerful, and massive, this site is invaluable for research into Vietnam units, individuals, and operations.