At a Glance
Description
A collection of maps detailing over 80 South Carolina towns and cities.
Producer
University of South Carolina Libraries Digital Collections
Sanborn Fire Insurance Maps of South Carolina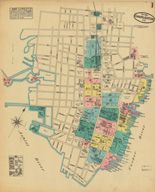 The 580 maps of more than 80 South Carolina towns and cities in this archive reveal urban landscapes and the locations of businesses, mills, colleges, depots, and other buildings between 1884 and 1923. The collection includes 232 unpublished, hand-drafted maps from the years 1899 to 1937. All maps are displayed with original color coding. Users can zoom in and out of maps and can pan right, left, up, or down to examine details. Every map is accompanied by bibliographic data. The full collection can be browsed or the user can choose to browse just the unpublished maps. The collection can be searched by city, year of publication, and county. The maps provide many details about mills and are particularly useful in revealing spatial relationships and location of railroad lines. There is also a link to the Union List of Sanborn and other fire insurance maps. An extremely useful resource for those researching the business or urban history of South Carolina in the decades around 1900.