Menu for the First Thanksgiving
Question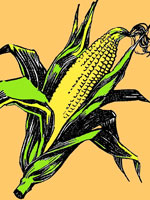 At the first Thanksgiving did the Pilgrims/Native Americans eat roasted kernels of corn or popped corn, or was there no corn served in that matter at all?
Answer
Only two sources contain eyewitness accounts of what has become known as the "First Thanksgiving." Neither account mentions whether corn was roasted, popped, or served at all. Yet it seems plausible that what Edward Winslow, a founder of the Plymouth Colony who was to become its governor in 1633, described as Indian-Corn indeed was included in the feast and in fact may have been boiled.
In a letter dated December 11, 1621, one year to the day after the Pilgrims landed at Plymouth Rock, Winslow wrote that the previous spring the settlers had planted some twenty acres of Indian corn, in addition to some six acres of barley and peas, and that while the harvest of barley was only "indifferent good" and the peas "not worth the gathering" he related that "we had a good increase of Indian-Corne." Governor William Bradford, in his account of Plymouth Plantation written years later, stated that during the first summer, "there was no want," with waterfowl, turkey, and venison in abundance, in addition to "about a peck a meal a week to a person, or now since harvest, Indian corn to that proportion."
Corn and kidney beans were staples of the Pilgrim diet.
If these accounts are to be believed, Indian corn, seemingly a staple of the settlers' diet, likely would have been eaten during the three-day harvest feast with the Wampanoags that Winslow also described. A 1674 account of Indian life by Daniel Gookin, superintendent of the Indians in Massachusetts, related, "Their food is generally boiled maize of Indian corn, mixed with kidney beans, or sometimes without."