At a Glance
Description
From racism to civil rights movement music, listen to the memories of these eight individuals.
Producer
Washington State University
Civil Rights Oral History Interviews: Spokane, Washington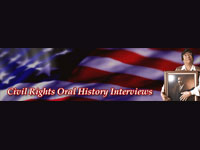 Produced as a part of a series of articles on black history titled "Through Spokane's Eyes: Moments in Black History," this site is a civil rights oral history project organized around the memories of men and women from Spokane, WA. Visitors can listen to of eight oral history interviews. They include an account by Jerrelene Williamson who compares the civil rights movement in Spokane to events in Alabama. Like most of the interviews, Williamson's dialogue is approximately 10 minutes in length. Emelda and Manuel Brown discuss their experiences with racial prejudice within the context of raising a family in Spokane in the 1960s. Their interview (32 minutes) is the second longest within the collection. Like many others within the project, Clarence Freeman shares his remembrances of the assassination of Dr. Martin Luther King. Sam Minnix and Verda Lofton describe the local civil rights demonstrations, and Flip Schulke recounts his experiences as a photographer in the south during the 1960s. His interview includes a discussion of James Meredith's admission into the University of Mississippi and at 45 minutes, is the longest. Alvin Pitmon talks about the desegregation of Arkansas schools and Nancy Nelson sings two civil rights spirituals, "My Lord, What a Morning" and "Let Us Break Bread Together."
A search engine allows users to search interviews by keyword and across database topics. This site will be of great interest to those interested in the history of civil rights in the United States.